When you're just getting started in Filevine there are a number of features and tools that will make your day-to-day work a lot easier. These basic principles go a long way to ensure that you can effectively communicate with your teams and clients, and also stay on top of your work.
Here are a few "How-to" tips that will help you smoothly sail through the workday in Filevine.
Creating a Task & Mentioning Others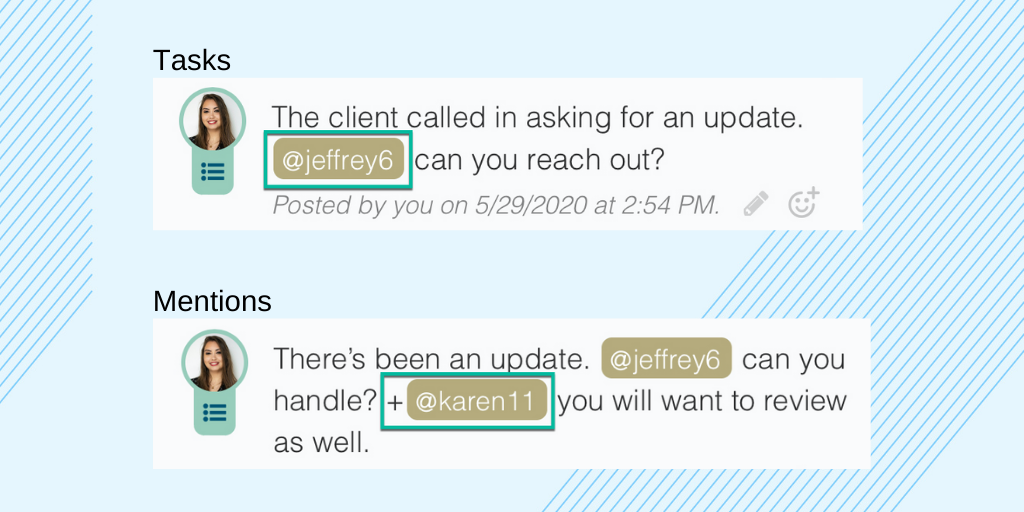 Collaboration and communication is written into the heart of Filevine. Each case, project, or matter has it's own activity feed where you can make a note, assign a task, or communicate with other involved parties.
Assigning tasks in Filevine is easy. Use the "@" symbol followed by a username to assign a task to that person. (Quick tip: assign tasks to yourself to manage your to-do's!)
You can also mention someone on a task without assigning the task to them? Use the "+" sign before the "@" symbol to notify that person about your note or task.
Formatting Notes & Tasks
Details are important on any legal matter. And formatting your notes can help to keep your details organized. There are a number of ways to format your notes including bolding text, adding italics, listing bullet points, adding image, and so much more. Take a look at our comprehensive formatting guide below.
Sharing a File Securely
Filevine makes it easy to store and share your documents securely. You can hit the options button on any document and select "share" to choose which method you prefer to send a document. The document share link is HIPAA compliant and ensures your files are secure when sharing them with others.
How to Manage Your Collections List
A collection section in Filevine is simply a list of records related to the case or project. This could be a collection of medical records related to a personal injury case, a list of expenses related to project, or any number of other uses.
Sorting through your collections helps you to easily scan and search through the records on a project. you can even have your Filevine admin set up the collection to easily export your list with a click of a button.
Learn more about collection sections ›
Building a Case List Report
Tired of outdated case lists that constantly need updating? Create a "Case by Primary Attorney" report to track all your active files.
Pro Tip: Set the report to run automatically and have it delivered to your email on a schedule that works best for you.