Collect eSignatures quickly, securely, and easily.
40% of emails go unread, but over 98% of text messages are opened. Vinesign uses the urgency of text messaging to get documents signed fast.
Vinesign is a stand-alone tool that enables you to get documents signed and filed in a secure and timely manner. However, it is also fully integratable with Filevine. As a Filevine user, you can use Vinesign to create and send Vinesign jobs within a Filevine project. Safely store, send, and view documents within your firm's operational core—Filevine.

---

Create Documents
Upload any PDF and insert customized fields for signatures, initials, and dates.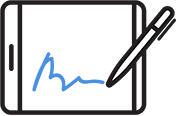 Send Documents
Send the doc to a client—they will receive both an email and an SMS text message and can sign from any device.

Receive Notifications
Once a document is signed, both you and client will receive an email confirmation.